I rule!
You see, I saw
this picture
from the
Huffington Post
and immediately wrote a
blog entry
on it below.
Then I immediately went to one of the most hilarious blogs on the web right now,
Things Younger Than McCain
and told the blogger about the picture in the
comments section
of his most recent
post
at the time.
And he wrote a
new entry
on his blog and thanked me!
I left a comment entering into his caption contest, here was my entry: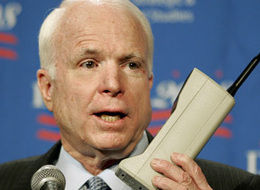 "It's 3am, and your children are safe and asleep. Who do you want answering the phone?"
Hey Joe, wanna link me? ;)
Definitely check out Things Younger Than McCain for some hilarious posts. One of my favorites: The San Francisco
Golden Gate Bridge
is younger than John McCain.